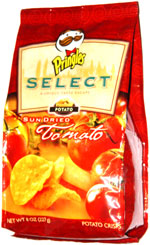 So this weekend T & I tried a fantastic new chip.
Pringles Select Crisps! YUM!!
We tried both the Sun-Dried Tomato & the Parmesan Garlic – Delicious!
They also have Cinnamon Sweet Potato Crisp and Szechuan Barbecue Rice Crisps.
(not sure about these?!)
I highly recommend!!

The only thing is that they come in a bag and the bag does not reseal or anything. I like when bags have those little reseal stickers on them.